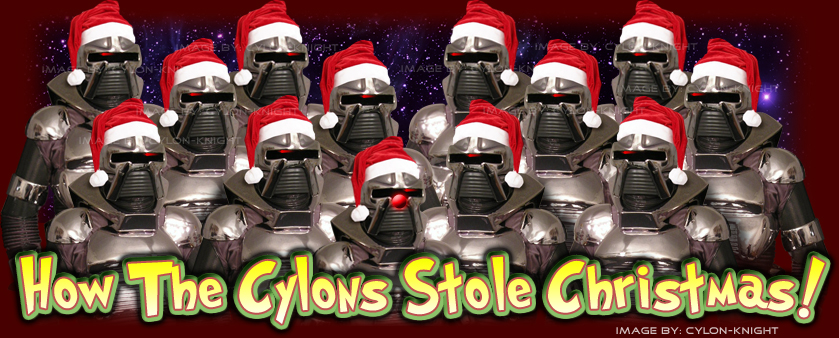 *Surprise*
Dale (GoldCylon),
Myself and all the members of ByYourCommand, Blackstar and beyond are all saddened by the tragic loss of your son Michael and wanted to help you – if even in some small way.
As such, with the help of GroupLeaderZeta and Red Eye, I decided that The Cylons would Steal Christmas


I organized a secret collection via PM to select BYC members who post often or were online recently… Our mission was to pay for BYC.net's hosting and domain fees for 2013 in Michael's memory. And I am pleased to announce or goal of $125 – was exceeded – a total of $225 was donated!
I transferred you the $225 via PayPal right before posting this. Please use this to pay the BYC.net fees 100% in full for 2013 - and use the extra however you see fit.
We appreciate the wonderful online community you've founded at ByYourCommand for us all to learn from and contribute too. You have gave us so much Cylon information, tips, tricks, knowledge and your friendship. We wanted to give back to you as you continue to deal with so much...
Everyone please note I did not mass PM the entire BYC membership… I don't want anyone to feel left out or overlooked. If anyone reading this didn't get my PM and you want to make a direct donation to Dale for any future BYC costs, that would be "mighty Cylonly" of you - you can PM him directly if so.
Dale, literally from around the world, we all wish the best for you and your family – and remember - the Cylon Empire has got your back.
All the best,
John (Cylon-Knight)

Donations - THANK YOU ALL!
Red Eye
C.O.R.A
jclayman99
rustycylon
Cylon534
Cy
137th Gebirg
Brutalmagic
Jenne
goldcylon1
SiR-ROUND
dbhs
Cylon-Knight
tejanovader (2013 pledge)