Well, it has been awhile since I made a wallpaper.
This one has been done for a long time, but I never did the wallpaper files. I made Wallpaper #12 recently, so I figured I should post 11 as well

PREVIEW: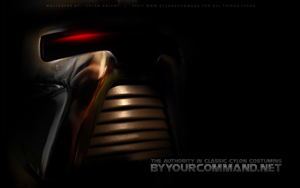 DOWNLOAD:
-
1900 x 1200
(1.3 MB)
-
1280 x 1024
(741 KB)
-
1280 x 800
(581 KB)
-
1024 x 768
(164 KB) - ALL NEW SIZE for my pal sean

- Need another size? Let me know.
*
Wondering who's fracking awesome Cylon helmet that is??? It is our own GoldCylon's. Special thanks to him for allowing it to be used for the wallpaper for everyone to enjoy, and so ByYourCommand.net can take over all the desktops of the world! LOL
*
ENJOY!