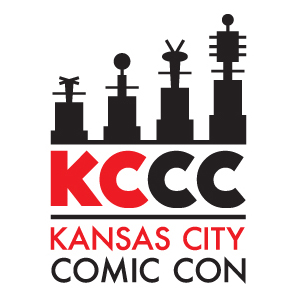 http://www.kansascity-comiccon.com
Welcome fellow Cylons to my report of the first ever Kansas City Comic Con!
YES - if you are counting - that is
two
major conventions in Kansas City this season!!! WHOOOOO
(If you missed it -
here is my Planet KC Comic Con thread
)
As I always say...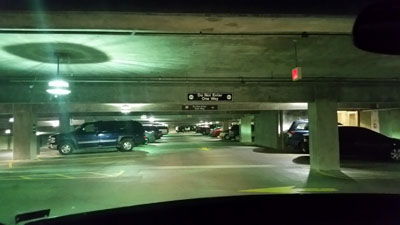 Here I've
parked the car
landed the raider at our secret underground lair. Where the Cylon Empire now has a covert listening post and staging ground for Centurion dispatch to what the lowly humans term "Bartle Hall."
I exited the
car
Raider, and activated my advanced Cylon atomic spectrum agitation modification field. As you know fellow Centurions, this overlays the appearance of a human body over my Centurion form to lowly human optic nerves. I was alone and going undercover to this convention.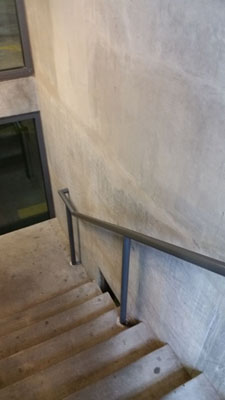 Eeeek!

The evil Colonial torture device known as "stairs" - where Cylon-Knight's gyroscopic stabilizers were deceived at the end of Planet KC Comic Con and I miss-stepped to scratch up a bicep armor. I took a photo of this nexus of evil - OF COURSE!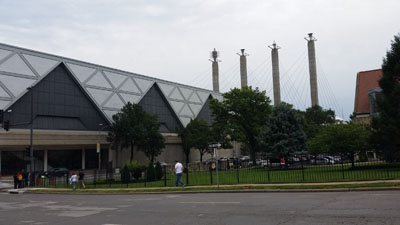 Ahhh.... Bartle Hall. And it's Iconic "bobbles" - which, again as we all know, are actually Cylon sensor and weather control pods... poor clueless humans.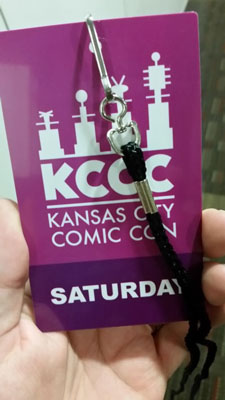 Sweet badge and free lanyard.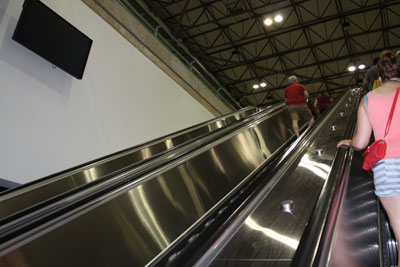 Escalators! "My thing"
I took a photo - and you have to imagine me in my Centurion costume on the escalator this time.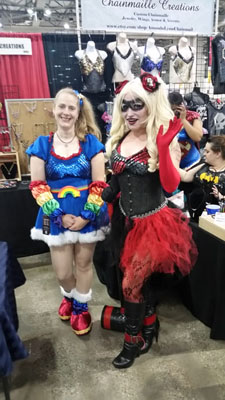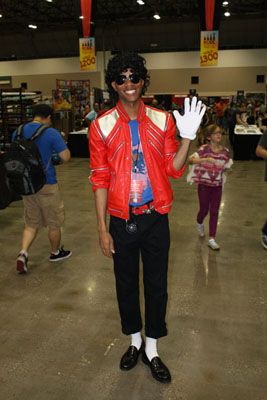 Left: Took this for Mrs. Cylon-Knight who couldn't come... she is a Rainbow Bright fan! Too cool.
Right: MJ, the King of Pop! I love it, every detail - spot on.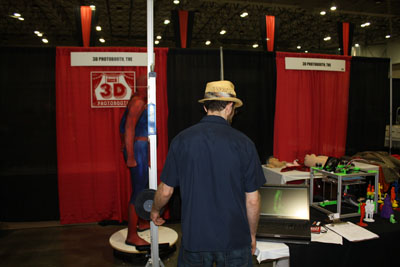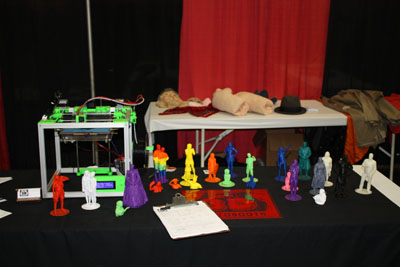 Left: A 3D photo booth
Right: The photos being printed. If they are there next year I'll have to get me a 3D print of me in costume.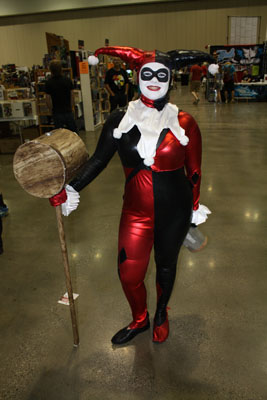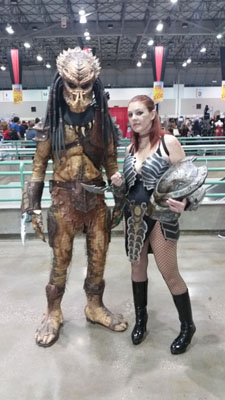 Left: A great Harley Quinn
Right; AWESOME Predator costumes... and I talked to the male Pred later out of his costume and he showed me the various parts and how HEAVY they are. WOW. Be glad fellow Cylons, we have it EASY vs the Preds!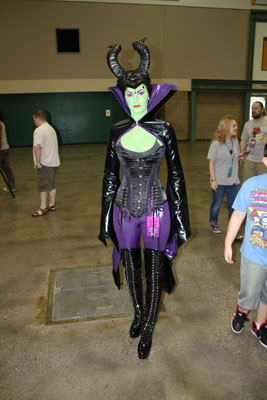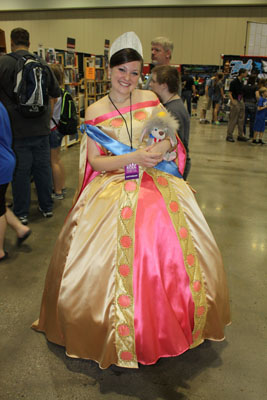 Left: Evil

Right: Good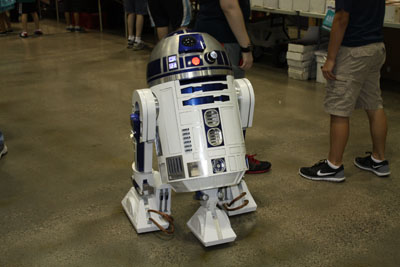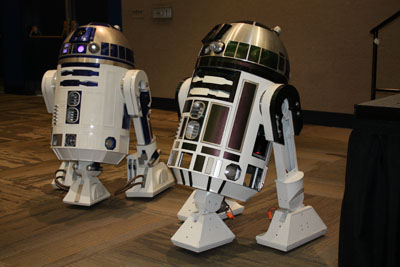 Left: R2-D2 was roaming around and I talked to his builder for a bit. I was going to the R2 builder panel in 30 min so both R2 and I had to find the room quick. This R2 was the first one I've ever seen that had his own music system... as he drove around he played the Star Wars theme and various soundtrack selections. *high-five* R2!
Right: The droids at the panel. So cool and so much info at the panel - IMPRESSIVE!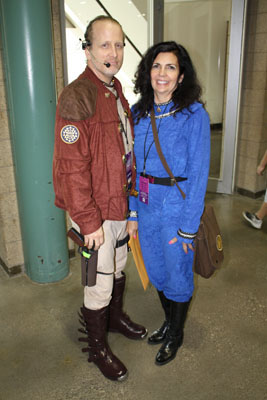 And who did I see at the Con?! By You Command's own Basestar stowaway and his lovely bridge crew wife. So much fun to visit and they even got an AMAZING peace offering from The Cylon Empire.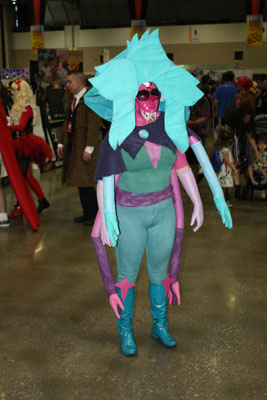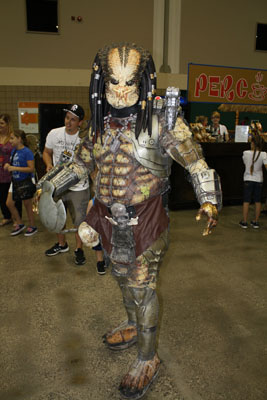 Left: Not sure about this character, but a lot of work in it. Very interesting.
Right: The Pred again... so amazing... and... oh my... he seems he is coming right at me!!!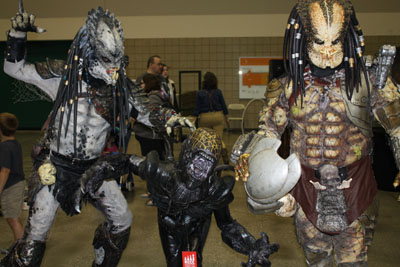 AND HE BROUGHT FRIENDS!!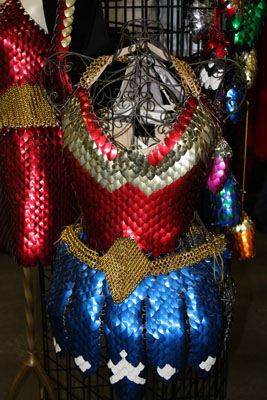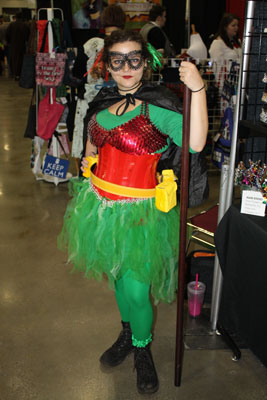 Cool suit and Cosplay.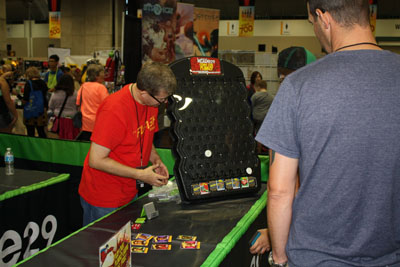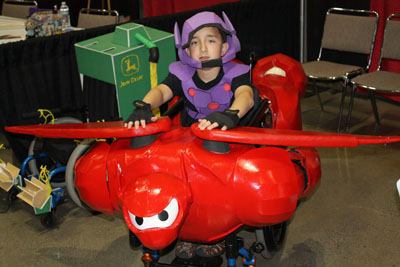 Left: One of two TV stations at the show had a Plinko board going to win a prize (maybe) for free.
My mom loves The Big Bang Theory and one of the prizes was a small set of The Big Bang Theory trading cards.
I stepped up, placed my first chip and called it out... "COME ON BIG BANG CARDS!"
... and BAZINGA. Plinko knows to obey an undercover Cylon Centurion's orders - or parish! I won the cards! Mother Cylon-Knight will be so happy. The guy running the game was impressed too... "That's how you do it." He said to the next person to play.
Right: This young fan and his family had a booth promoting cosplay for wheelchair attendees. He was wonderful and had a very clever costume. He expertly posed for a photo when I asked for one. Bravo!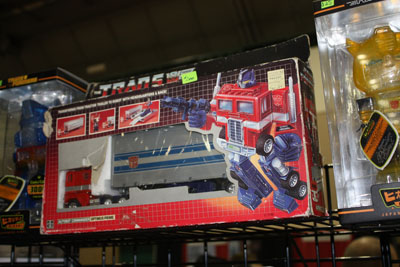 Soooooooo many Transformers at one booth. *IN LOVE*
Spotted this G1 MIB Prime (not the best condition, but still).
$200 price tag! Whoooo you GO Prime!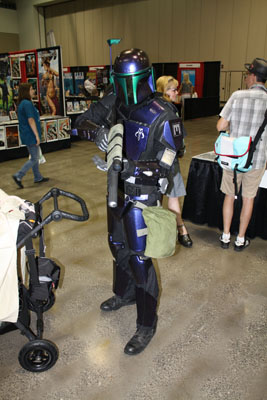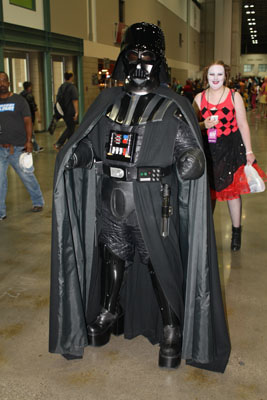 Left: Stop pushing stroller. Shoot Cylon taking photo.

Right: A nice Vader. But I did notice the second time we crossed paths... he's shorter than I am out of his suit and only a hair taller than me in the suit!? How about those SHOES???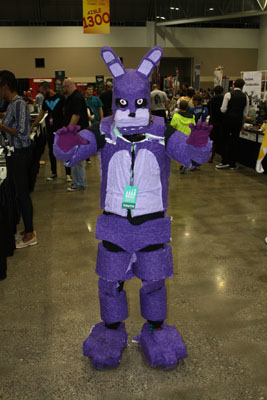 Five Nights at Freddy's... This was a pre-teen who was in the Children's costume contest. A lot of time and effort went into the costume. I saw it later in the day and it was starting to ware bad, but it did hold up. I hope to see a version 2.0 next year from this talented youth. Cosplay is such fun to do and see!!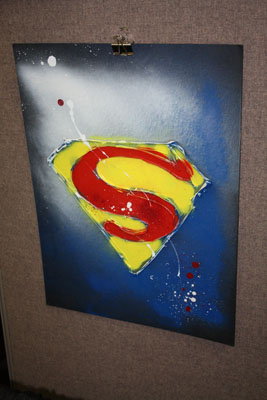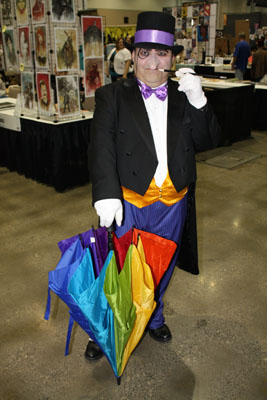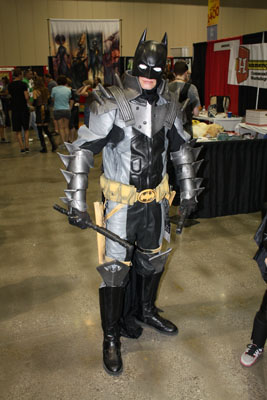 DC IN THE HOUSE!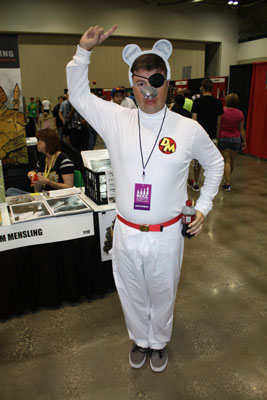 Every con I see a costume that I don't expect and totally delights me. This time it was DANGER MOUSE!
He even did the pose perfectly. Brilliant, DM... brilliant.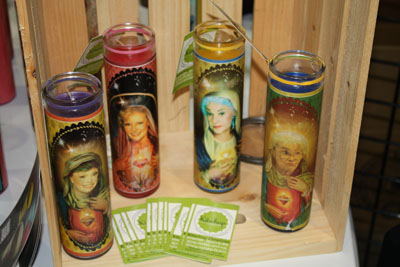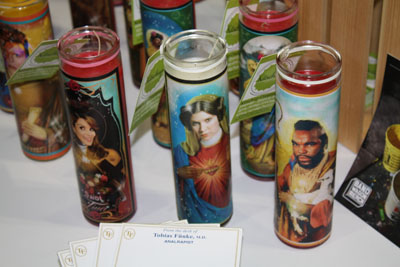 SOOOOOOOOOO AWESOME!
They had a PeeWee Herman too, didn't get in photo, but it was hands awesome. I might be ordering some from their site... was sure to get a card. So clever, and the art is perfect.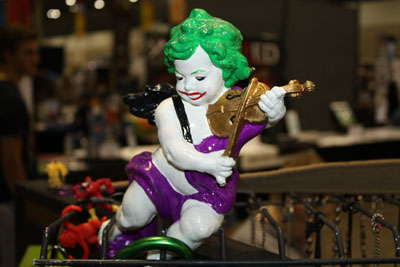 Photo of Joker Cherub... cause Joker Cherub.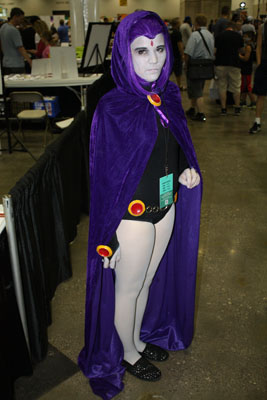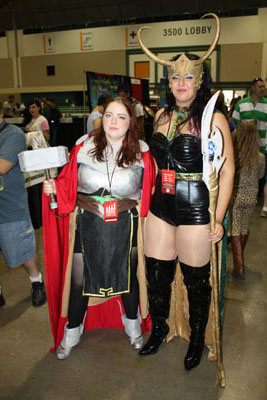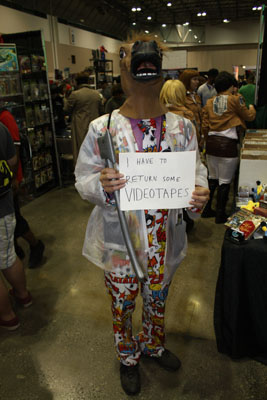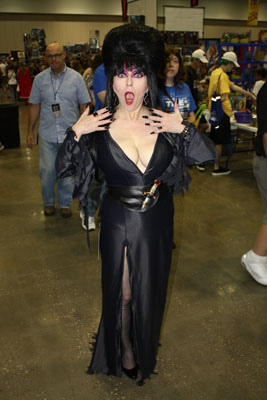 (Horse's sign reads: "I have to return some videotapes") lol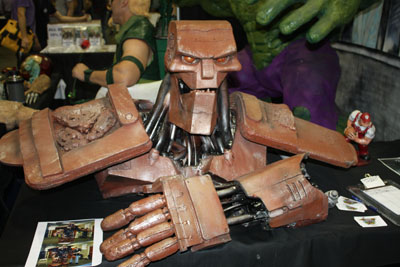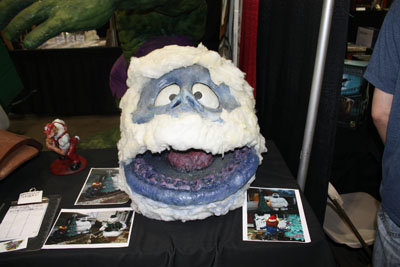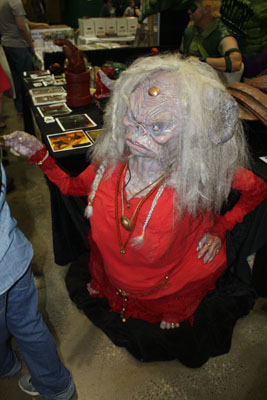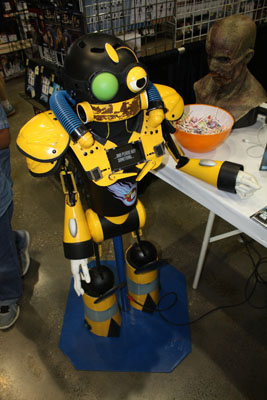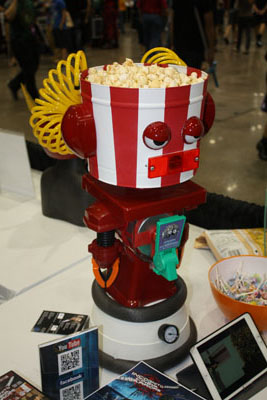 Jaw dropping fabrication.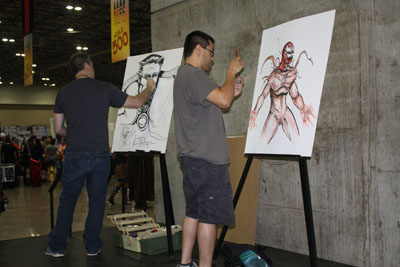 The organizers had lots of interaction items for visitors. This live art being done was very cool. I planned to get back and see how the paintings turned out but forgot to. Darn.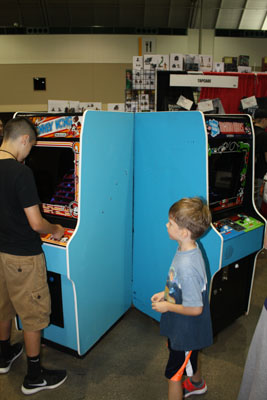 Classic video games from a local retro video game bar. My original Cylon Handler, Jared, and his oldest son joined me at the con early on. When we found these arcades I played Mario Bros (NO Super) with his son. We got a few turtles, but then they got us. Oh... and some fireballs too. Curse you floating / flying fireballs - why you be hatin' on plumbers!?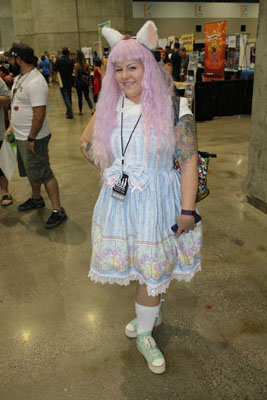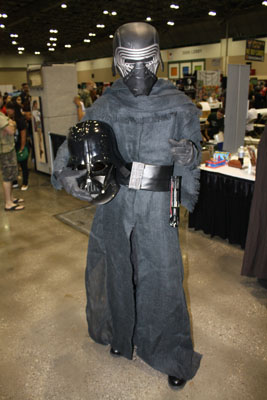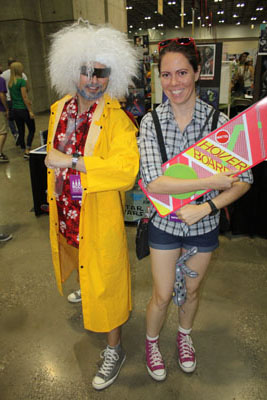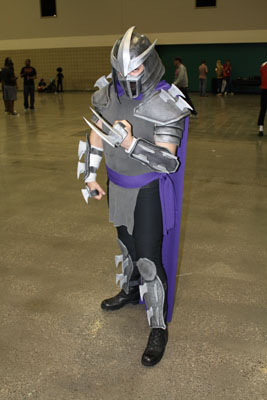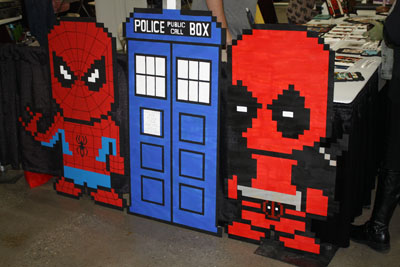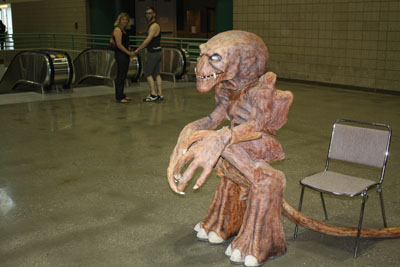 Left: 8 Bit FOREVER
Right: Pumpkinhead. Wow.
He was squatting here - when he stood up ... TALL. He was slow and very prone to falling - and did - we were told.
But wow, he could walk and looked great.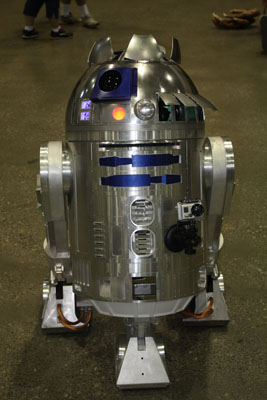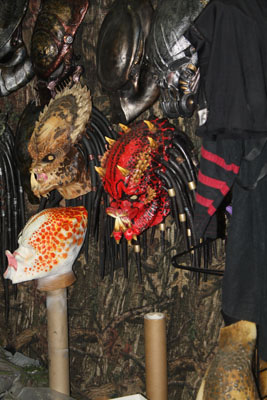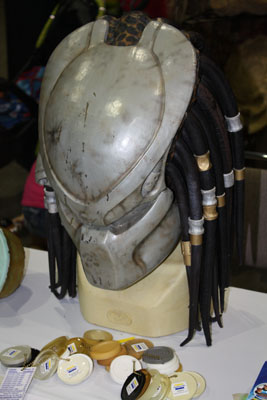 Such skill.
ALL aluminium R2, every single panel pops up in 1/2 a second. He even had his own cam to record his adventures

Sith Predator. Wow. Just WOW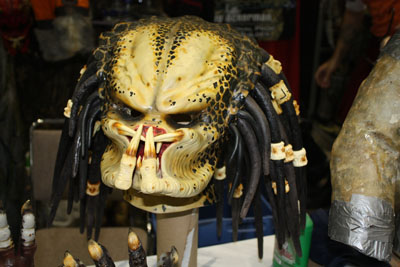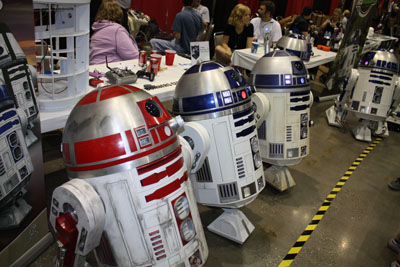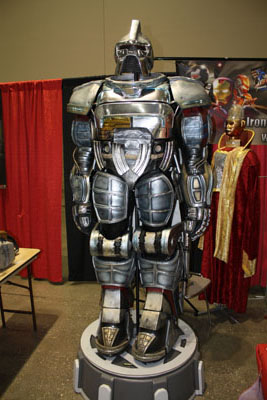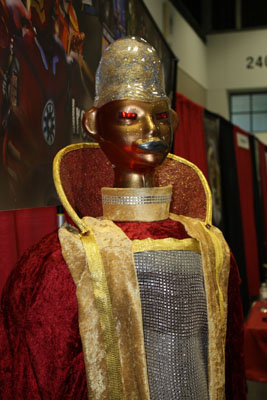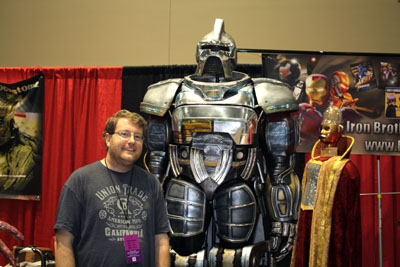 Family photo.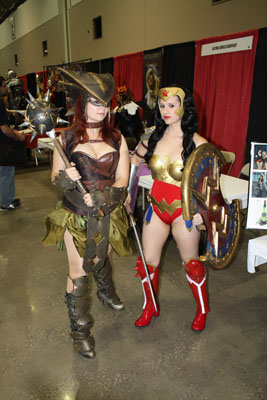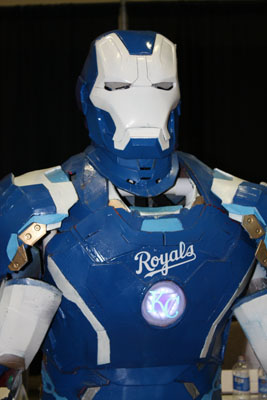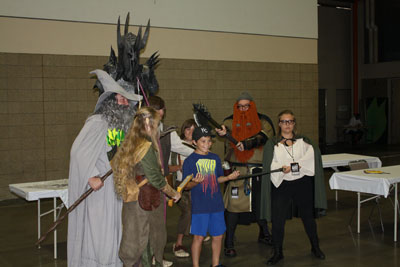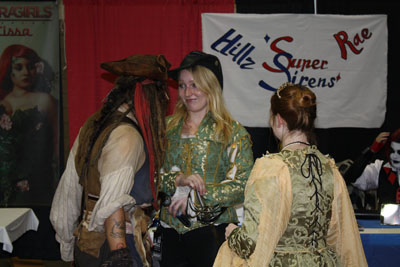 Left: This group from Springfield MO had the ENTIRE Lord of the Rings set of characters.
Including Sauron - on stilts, with helmet - like nearly 9' tall!!!
Right: Captain Jack Sparrow mackin on some girls. Really - look at her face, she was totally caught off guard by the Captain.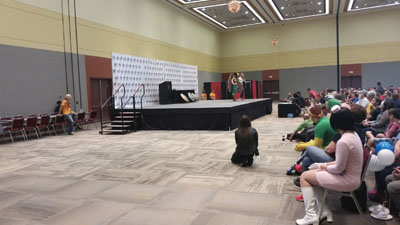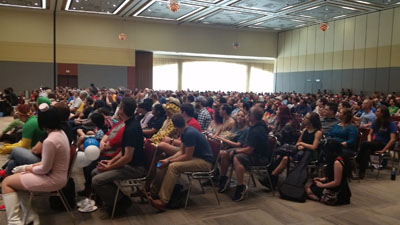 I took a panoramic photo that is WAY better. But doubt it would post up well, so I did this split view too.
This is the adult costume contest. We got there after it had started so got crappy seats. Well, no seats -- sat on the floor along the wall. And as such my photos are not the best to post up. There were MANY in the contest and hundreds of fans in the crowd. I don't see who won on the KCCC website (winners were announced two hours later at the con at 7pm) but if Hawkgirl didn't win, then the judges need slapped - HARD.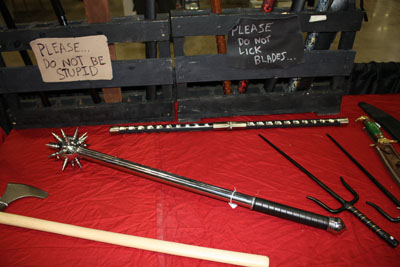 Jared pointed this out to me, and that I needed to get it for work.
HE IS RIGHT. I need the signs too.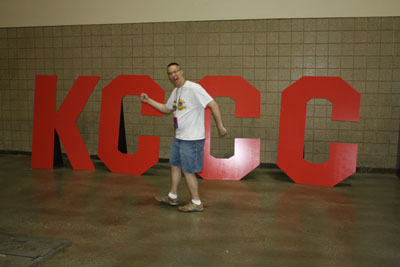 Jared pwned KCCC! And I took a photo (of course).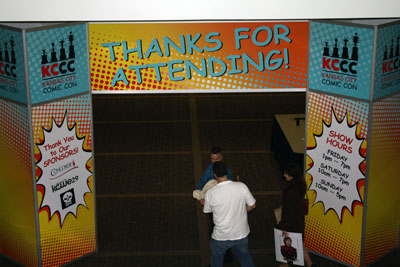 Well... 9 hours later... sadly, we headed out. The con was closing and we were off to find something for supper.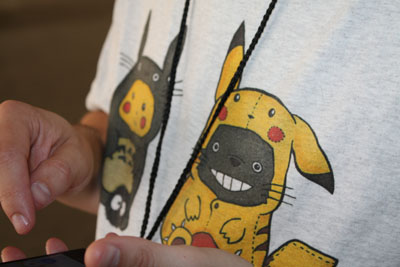 I must point out, that the fashion forward Jared struck again. At Galacticon 3 he got many comments on his Galaga shirt... and at KCCC MANY people commented on his new shirt and maybe 10 or so asked for a photo of it!? So I had to take a photo of it (of course) to keep the memory forever. I just wore a plain old shirt to complete my lowly human disguise. (That's my story anyways.)
Now, if you are still here and still reading - you rock and here is the rest of the story.
Jared and I googled a place to eat (pictured above - he is on his phone looking). But being in the heart of the city the only returns were all fancy pants foo foo, live jazz and such places. More time and money involved than we wanted to invest after 9 hours of con plus his son was with us. We gave up on eating together as we'd be taking different interstates to our homes... we needed something CLOSE by and all the food shops in Bartle Hall had closed. We started to walk to the parking lot. Then I literally saw the writing on the ground. Someone had written "Quizons 2 blocks [and an arrow]" in chalk.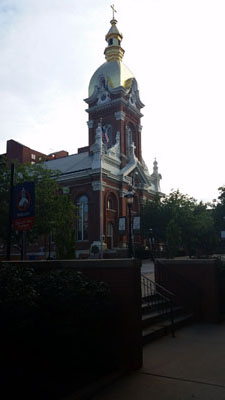 We started our 2 block walk and across the street from Quizons was this amazing church from the late 1800s. Wow.
Quizons usually closes at 7 the crew told us, but they had the idea to stay open late for KCCC visitors. Great idea indeed! I happily gave them my money.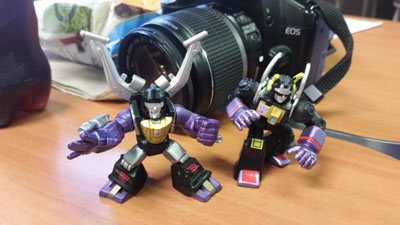 I snapped this photo in Quiznos of Jared and I's Transformers score. Shrapnel (left) is his, Kickback (right) is mine.
I realized two days later that 8-8-2015 (day of the con) was also the 29th anniv of Transformers the Movie (1986). How fitting we unknowingly celebrated with our little Insecticons!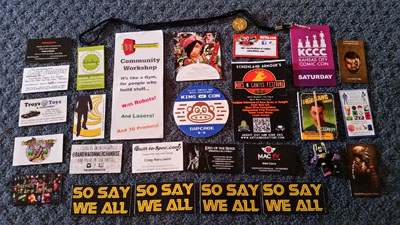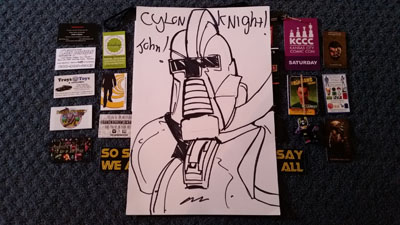 Back home - all my SWAG!!!
And my quick Cylon-Knight sketch from an artist at the con. He worked off my cell phone wallpaper to draw it as we visited.
Just a couple of bucks for a 5 min sketch. A quick and fun memento.
.........that's that fellow Cylons. Photos - IT HAPPENED!
Kansas City is once again in check. Cylon tyranny has a strong hold that will last till next spring and our next two cons.
SEE YOU THERE!!!