Once again... Planet Comicon Kansas City!!!!
whooooooooooooooooooooooooooooo

And, as always, my fellow Cylons - As Cylon-Knight says:
"Photos, or it didn't happen!"
.... but wait!
I have to get ready for the con first! Cylon-Knight has some Galacticon III bumps and bruises to repair.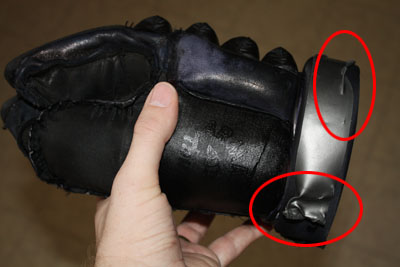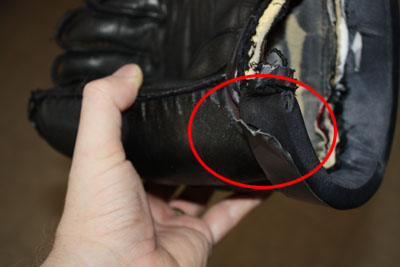 My vinyl cuffs got chewed up a bit from trooping at G3. I am going to enter the Planet Comicon KC costume contest so I decided to replace the trim so my Costume will be A+ all around.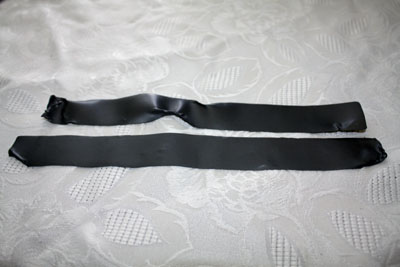 Here are the trim parts that served me well during the Cylon Empire triumph in Houston


CYA TRIM! *cut new ones*
My belt chrome caps got 100% new Velcro under them. The Velcro from G3 totally gave out - TIP - if you ever use Velcro on "pleather" be sure to use an industrial strength sticky back Velcro (it literally says that "industrial strength"). If not "regular" Velcro will just slide of and leave a snotty mess of tacky adhesive like a snail trail.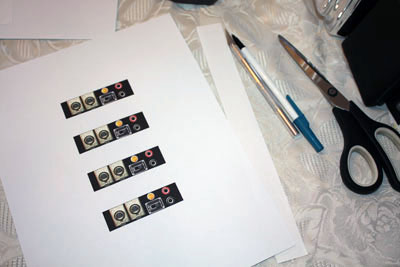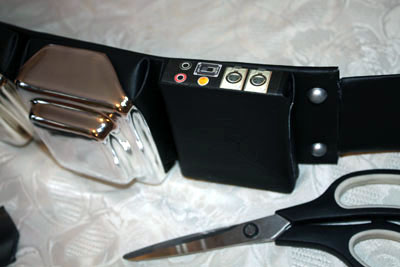 What else could give my costume a little boost? I decided to make a fake power pack top to my home-made belt. I'm a Cylon with Photoshop ... and I know how to use it

Many thanks to Groupleader Zeta for helping me track down the XLR plug images, they ROCK. The rest I hand created. The orange indicator "light" got some extra bling too. I used some of Mrs. Cylon-Knight's scrapbooking supplies to put a slight 3D gloss coat (little dome) as if there was an actual lens. Tricky Cylons! It's not 1:1 exact in size, but in content it is about dead on.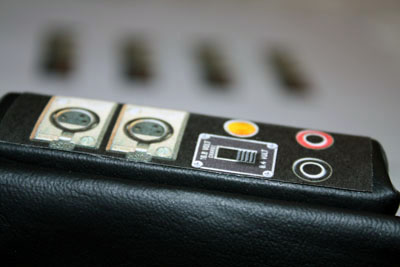 For a piece of paper, I think it is cool.

Gloves, check.
Belt, check.
Up next, boots.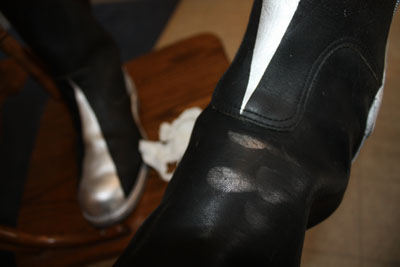 Well, the silver paint left silver fingerprints as it always stays a bit tacky on the leather.

But I found a way to fix it - EASY.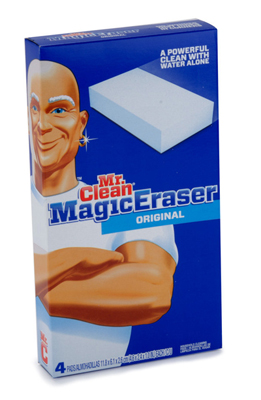 These RULE. Get one a little bit wet with water and lightly rub on the silver fingerprints - POOF! They are gone and the boot is not damaged.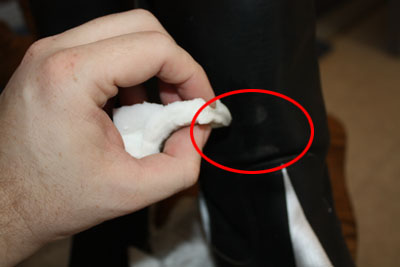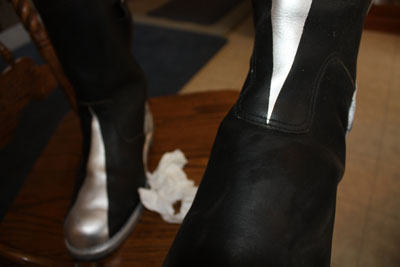 Left: Half gone
Right: All gone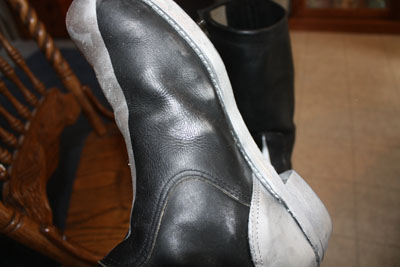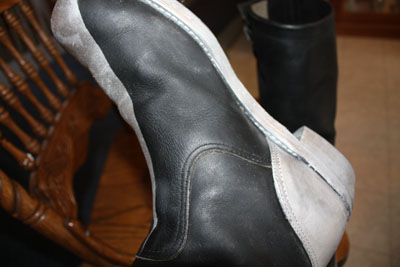 Left: In the center are more (sort of in the glare of the flash)
Right: All better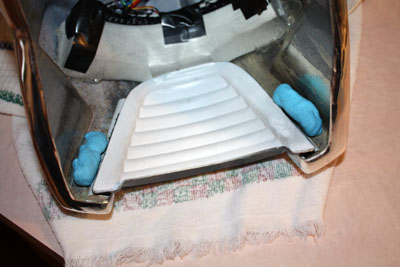 Now, one more bit on my costume I needed to fix since before G3 was how the grill attaches to the helmet. I used just blobs of blue sticky tack for G3. They did the job ... but are lame and fall out easy.
I thought up an evil Cylon idea.....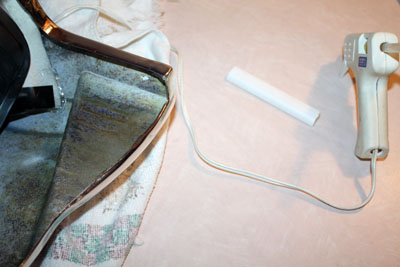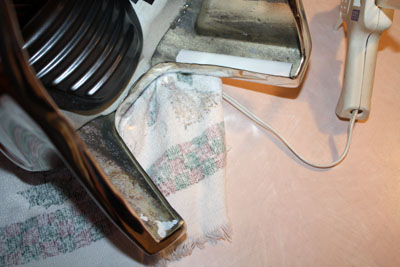 Left: Some white small bull nose trim for house hold work. I originally got this for the trim on the rifle but didn't use it and it has been in my way since. But today I thought of a use for it!
Right: Cut to size and put into the "tusks" it will be a shelf to put Velcro (again INDUSTRIAL STRENGTH) to.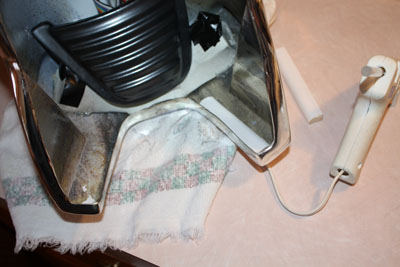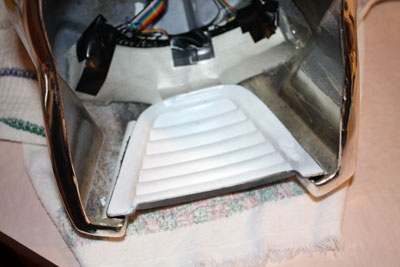 Left: Going in
Right: BAM! My grill is not going to pop out ever again... but can still be taken out if I wanted.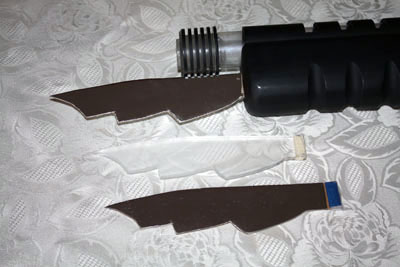 I was worried they may not allow my bayonet as it is sharp (safety, etc.) ... so I used Mrs. Cylon-Knight's scrapbooking supplies once more to make a shiny silver stand in out of thin cardboard and silver mirror paper. I made two - just in case - I had a spare if needed. The center one is my "real" one... it is THICK and SHARP (i.e. AWESOME!)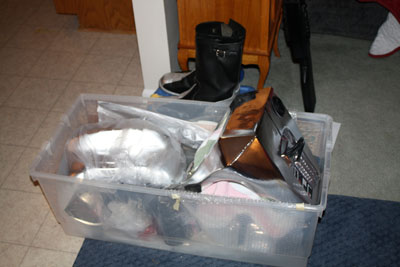 So, here I am... Cylon-Knight all packed up and ready to take Kansas City for the Cylon Empire!!!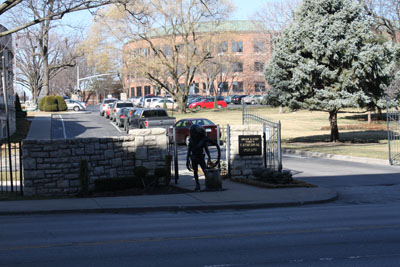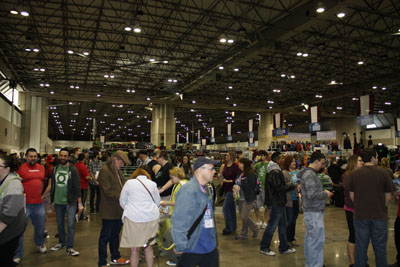 Left: An Alien was hanging around across the street from the line... to jump out at people on the sidewalk.
Hey, the city can be dangerous.

Right: People - Planet Comicon KC has GROWN!!!!!!!!!!
Last time I went in 2013 it was rather modest... now it is HUGE. It is held in Bartle Hall (that has Auto Shows and other major - BIG - events.). The line went on and on and on and on and ...... yeah, city blocks of LINE!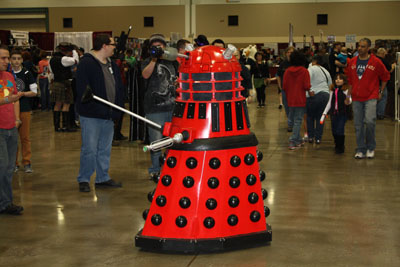 This guy was fun - he had the voice down pat too!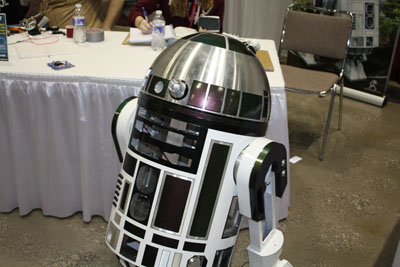 Kansas City has a local R2 Builders chapter too... wish I had the money for that!
(You can send me money if you want... just sayin'

)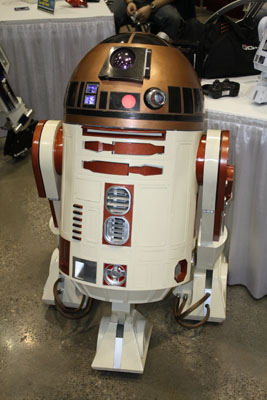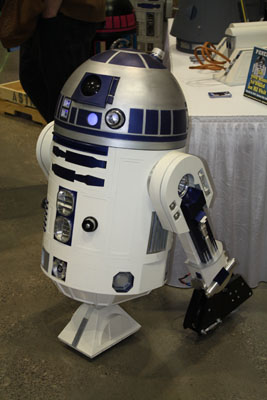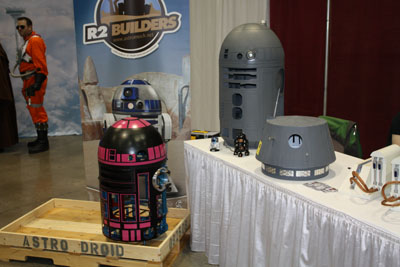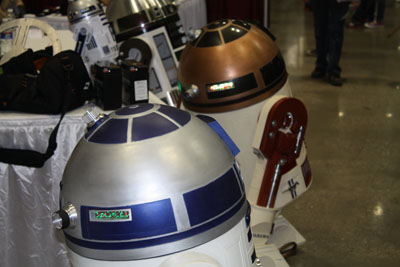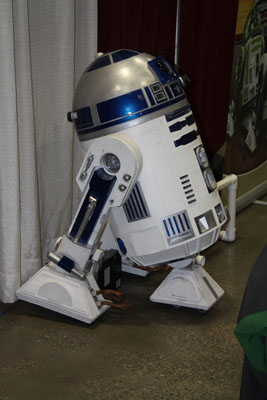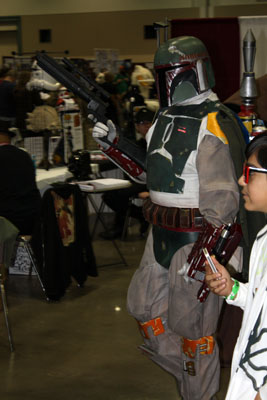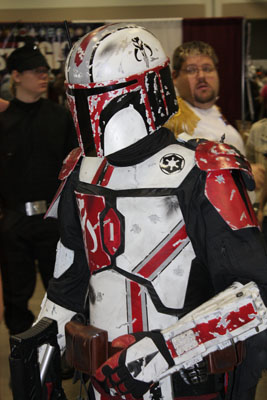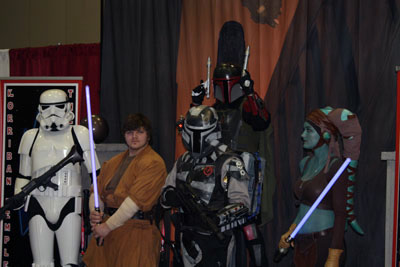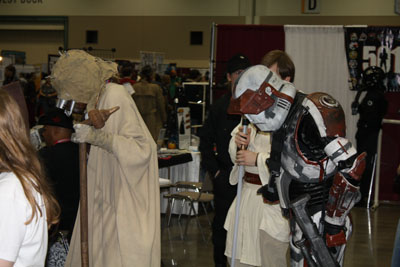 Right: They are looking down as they had just finished taking photos with some fans and were starting to walk... HA!
We Cylons know that "CAN'T SEE WHERE I'M GOING" feeling as well. lol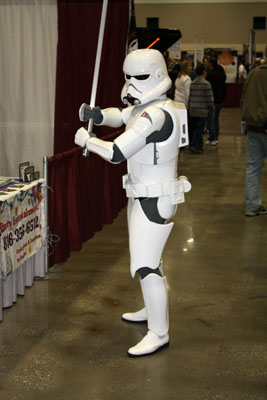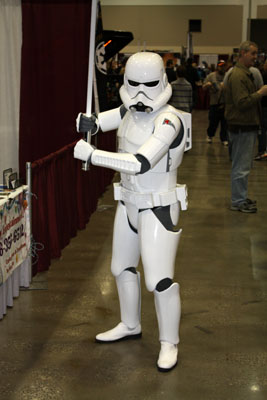 Concept Stromtrooper... VERY COOL.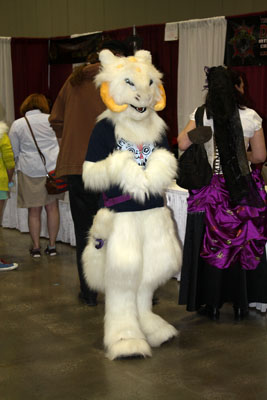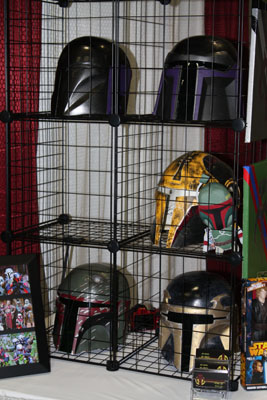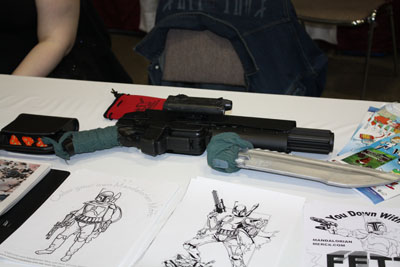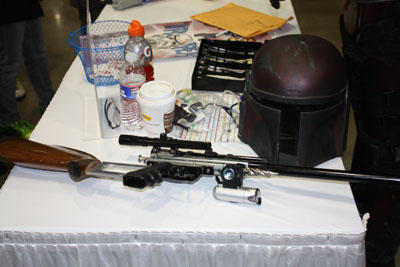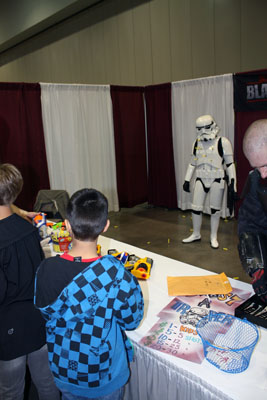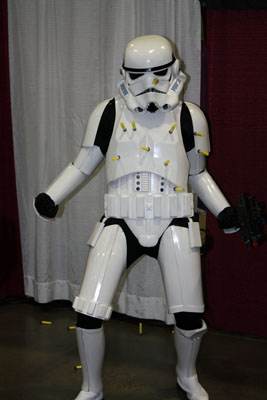 Left: This was fun... for $5 donation to a charity you could shoot a trooper. Kaden prepares to take aim and FIRE!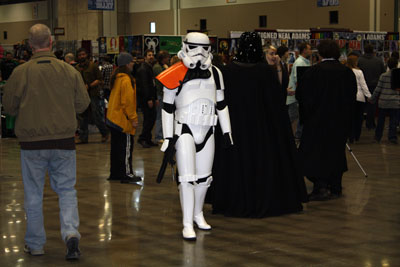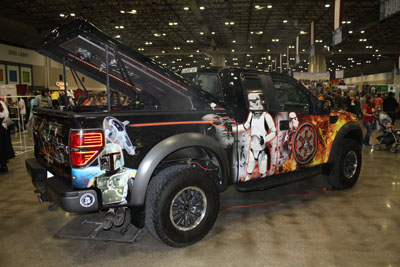 Left: Saw this trooper and HEARD the music from the truck in the photo on the Right. It was blasting the Imperial March and fog would come out of the truck bed every so often.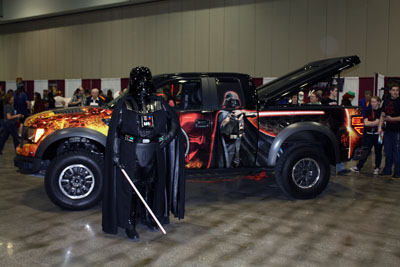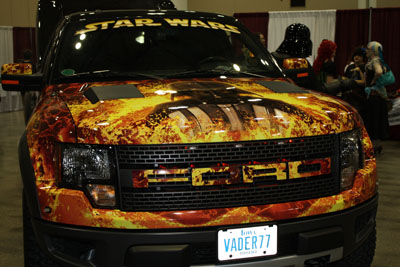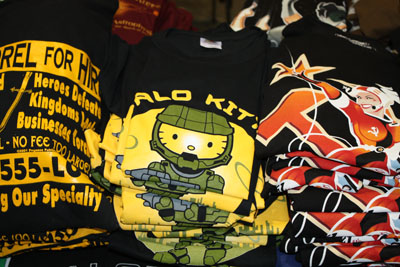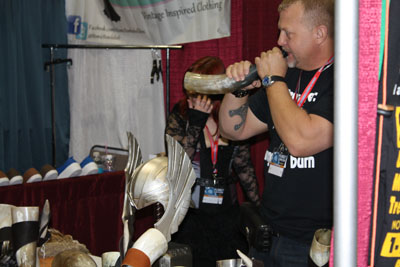 Funny shirt and cool horn / helmet.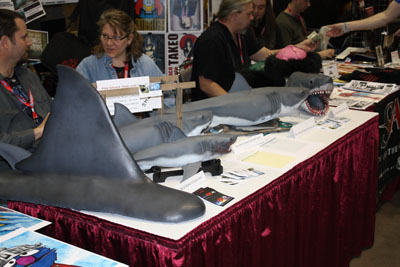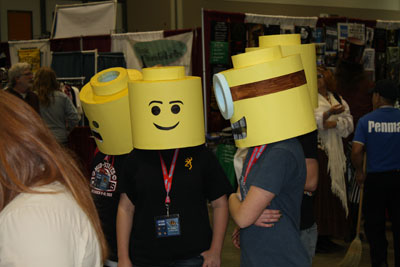 Left: They're gonna need a bigger table!

Right: AWESOME!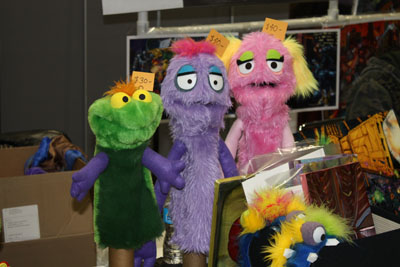 Cool Puppets.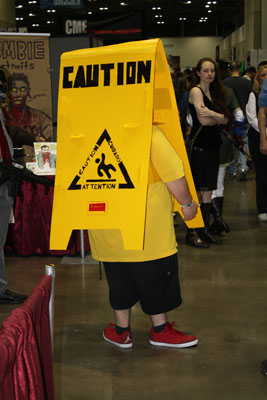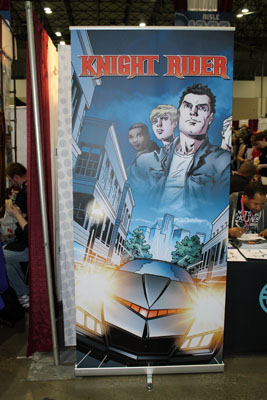 Left: HOW FUN! HA Creative costume.
Right: Now THIS caught my eye and I ran over to it - wet floor or not!

There is a Knight Rider and Airwolf comic series out now (Digital only - print is on the way). SWEET! I have to get them.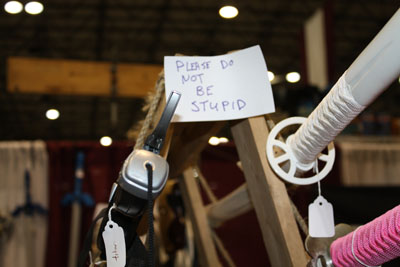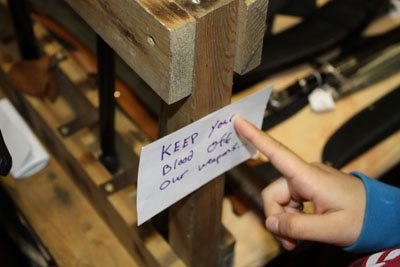 Signs at the REAL weapons booth. Swords, knives etc.
Jared made a good observation that it is illegal to bring a weapon into the con, but you can buy one there and walk around with it? ... I told Jared that they are just metal sticks and everyone should relax. He said the booth owner behind me heard that and giggled. I guess it was a comment he'd not yet heard. lol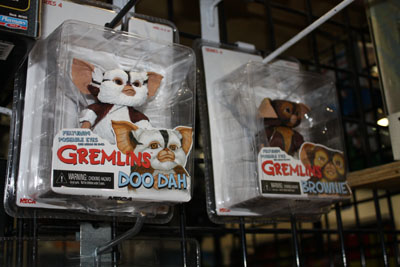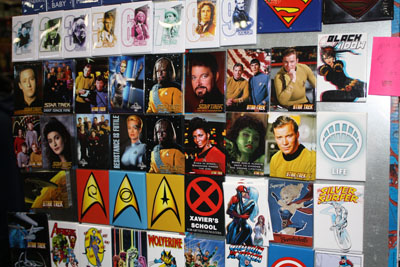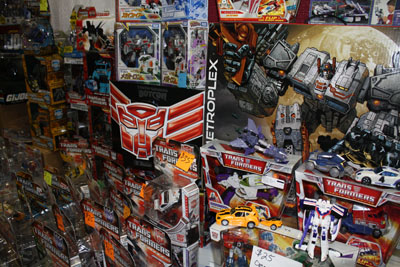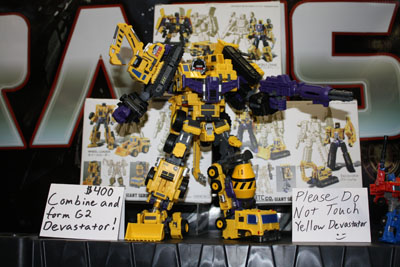 WALL OF TRANSFORMERS! *In Love*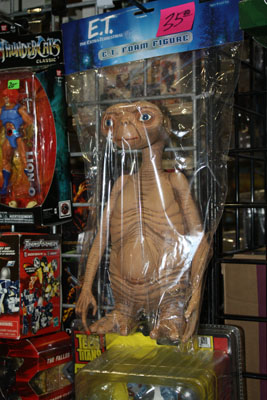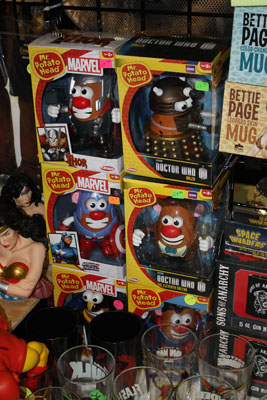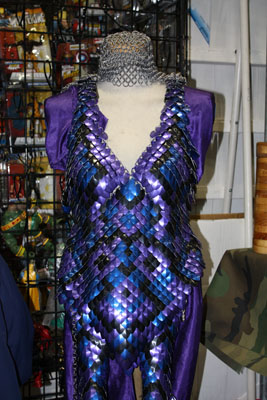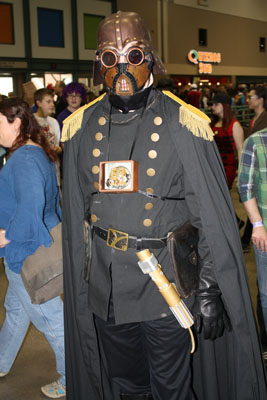 Left: This type of armor was all around, women wearing them - evan a full Captain America in it. It seems to be a new "rage."
Right: Seam punk Vader. I chatted to him later before the costume contest. Head to toe - very cool.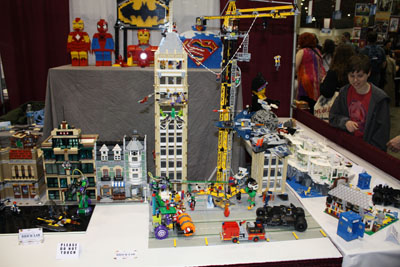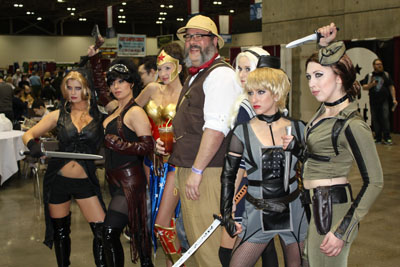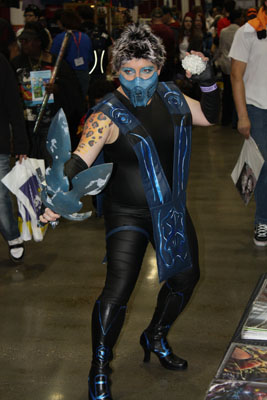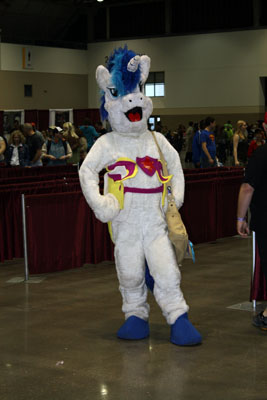 Nearing the food area - is a little cool car show! MORE PHOTOS!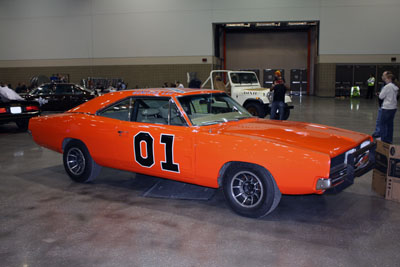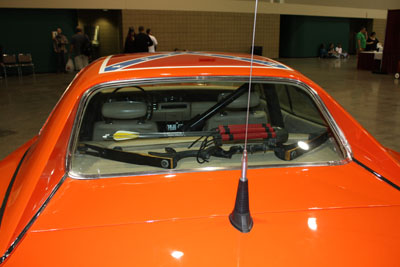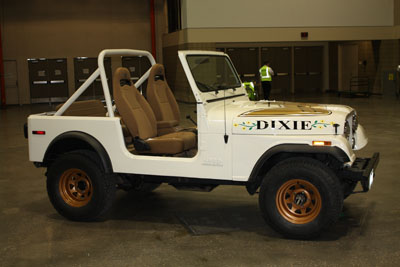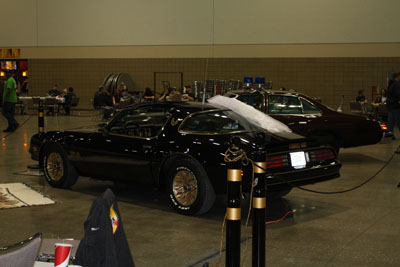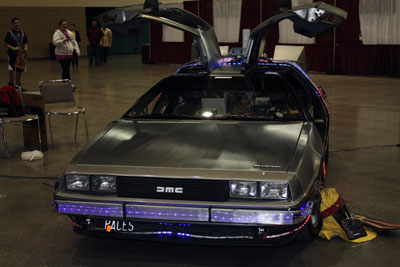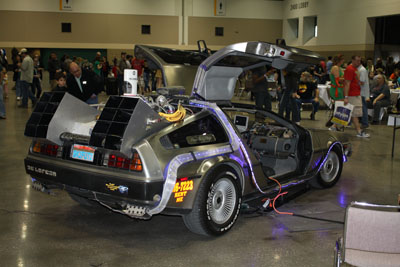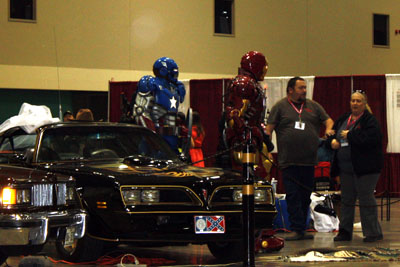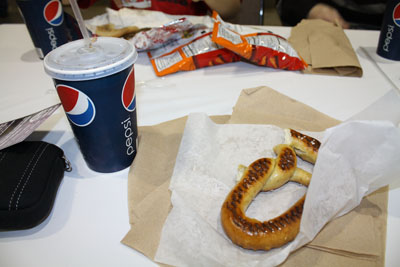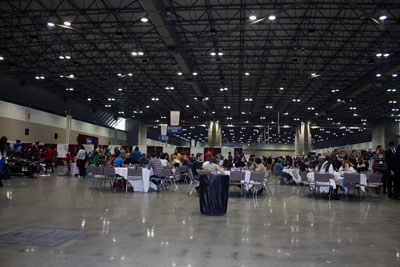 Left: My lunch! mmmmm
Right: View from our table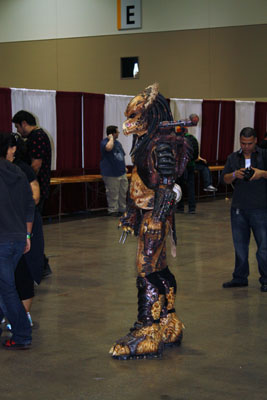 He better not try to take my pretzel!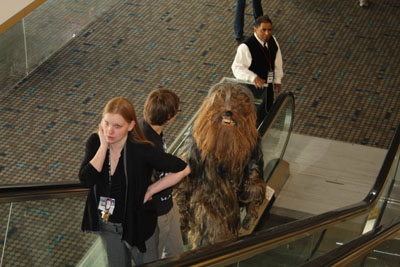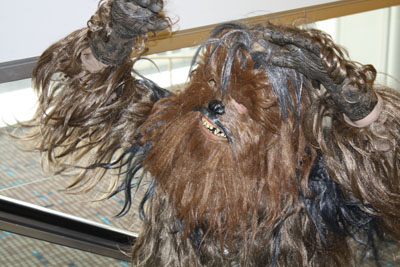 With lunch over it was time to rest our feet a bit then head back to the car, and to my costume to get ready for the costume contest. On the way out a wookie was on the way in.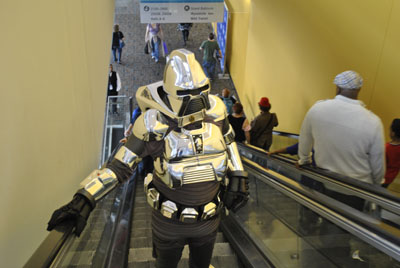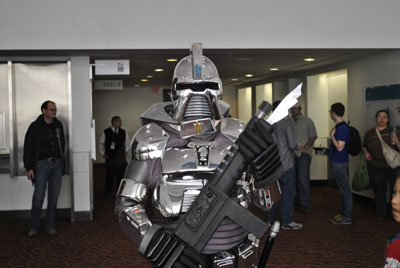 Left: Good thing that wookie was out of the way a bit later - THE CYLONS HAVE LANDED
Right: ...and the Cylons are armed. (THANK YOU, AGAIN, SEAN!!)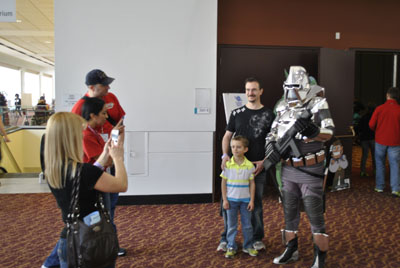 Left: We meet again... Extermination and Exterminate. I can live with this guy.

Right: Human Child... you are suppose to RUN IN FEAR - AND - oh... never mind. *say cheese*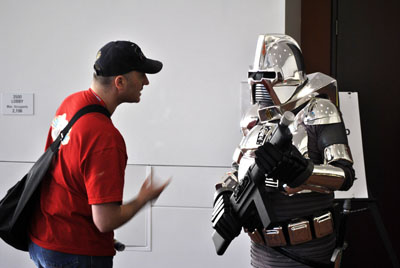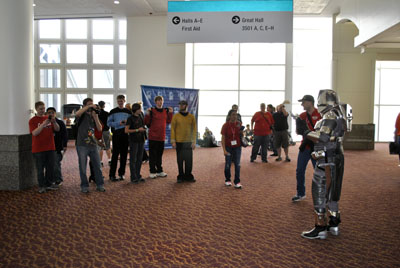 Left: A lowly human pleas for his life... via compliments on my Centurion. It worked.... THIS TIME! *dramatic music*
Right: A group of Starfleet crew show up. I am looking for the "GA-LAC-TI-CA" - not the Enterprise. *Face palm* Forget it lowly humans. BEGONE! lol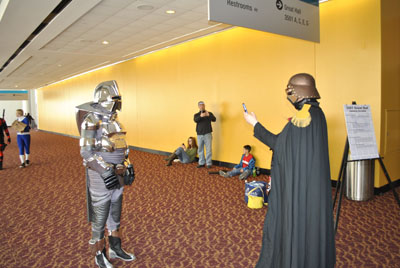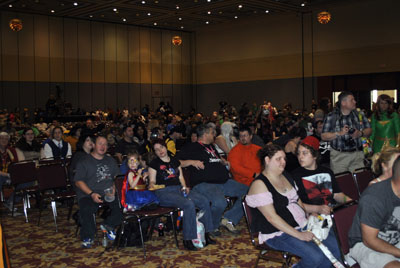 Left: Centurion Vs. Steam Vader ... he got me with his camera phone. I guess we're even now.
Right: THE COSTUME CONTEST! It was huuuuge. In the Grand Ballroom (largest one the con offers). WOW. It had around 100 people in it (maybe more?). All I know is there were 4 prizes - so I figured I'd not win. That and it took HOOOOURS of standing and waiting. Entries were to be there an hour early to line up, etc. Then the show started about an hour late and took almost two hours... add that all up and that is a LOT of suit time. HOT and HURT feet (remember I'd been at the con all day too walking, walking, walking, walking - Jared too!). I'm not doing the contest again next year. As fun as it was - wondering the con floor being a photo magnet is more fun.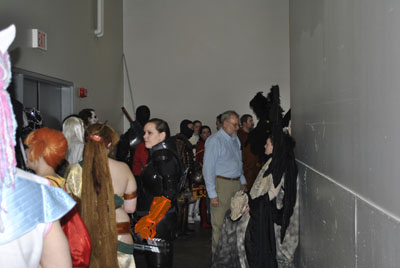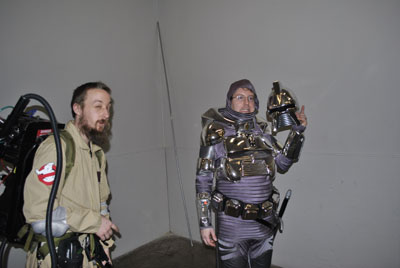 Left: Waiting was LONG and hurt my body to just stand still but it was fun to visit with the others. And really, who can say they spent a few hours in a hallway with crazies, criminals, super villains and heroes, aliens and video game characters?! JARED AND I CAN!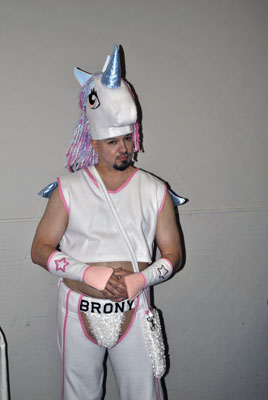 After awhile, and 3 or 4 re-line ups it was clear the contest left much to be desired in organization. But as I said I got to meet a lot of cool people and one if them was a Brony. Hey now, no haters, this guy was cool. He was two in front of me in line. He had his pony going on, but if you heard him talk (not see him) you'd have thought it was the baddest biker ready to punch out your grandma if she said bikes were uncool. He was awesome... and almost bailed on the contest as he had plantar fasciitis in his right foot and it was on fire after hours in the cement hallway waiting (the pink socks didn't help!). I told him NO! the audience would love him... he came back instantly saying "Frak the audience - my foot hurts!" (but not in funny BSG speak). He found a chair - like many others did - and did go on stage. He got one of the top three cheers from the crowd. My wife, in the audience, later told me - if not the best. By the time it got to him and me (THE END) a lot of the crowd had left it took so long.
I really enjoyed getting to meet him, a Knight in front of me, a Ghostbuster behind me - and others all over. The various personalities and crazy costumes they all enjoyed to create and chat about - such fun! (However don't look for an @$$-less chaps with Rainbows and Cup Cakes @$$ tattooed My Little Cylon costume from me. I'm not as brave!)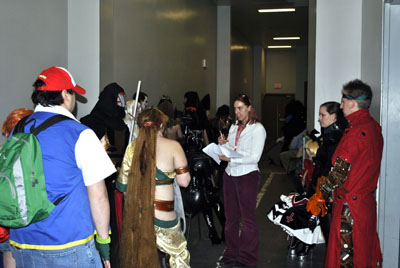 Con Organizer going round and round and no one moving... ooh it was slow going...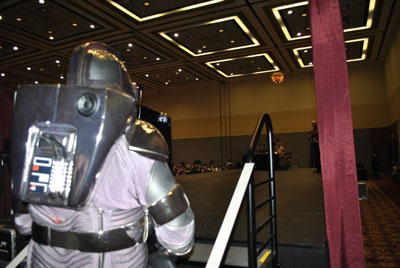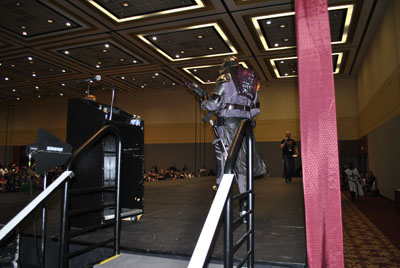 Left: And here it is - my MOMENT TO SHINE! (get it?

). Jared was there to help me all this time and got some great photos of me going on, then ran around and got some of me on stage.
Right: First Houston, now Cylon-Knight pwns Kansas City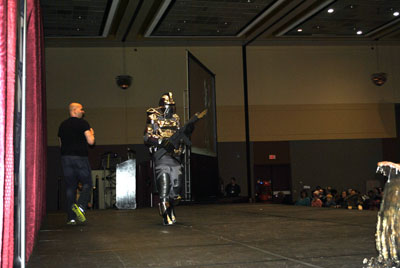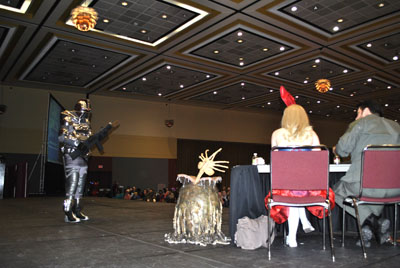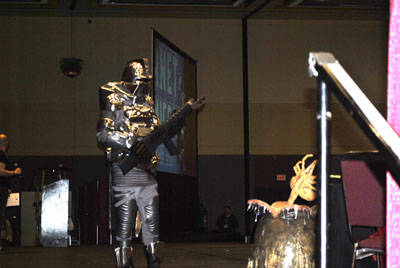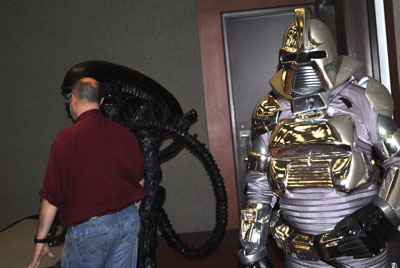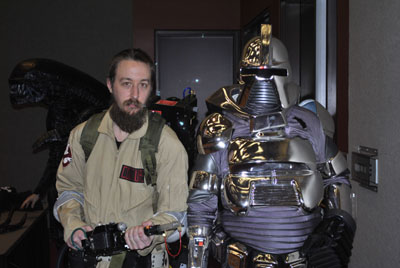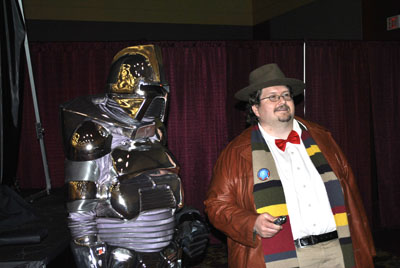 Left: My new Ghostbuster pal. He battery failed on stage

My rifle battery failed too Jared realized as we waited and waited in the hallway. However we unplugged it and let it sit awhile then he put it back in right before I got on stage and it found enough juice to see me through on stage - THANK GOODNESS! With no sounds I only had my lights. I shut off the eye during the long wait too after the rifle crapped battery flaked out I thought OMG if the eye quit I'd be screwed... and thank goodness I did about 15 ~ 20 min after the contest it did run out of power and my eye stopped. LESSON LEARNED - ALWAYS BRING AN ABSURD, OFFENSIVE AMOUNT OF BACK UP BATTERIES!!!!
Right: Who? ......... hahahahahahahaaha I never get tired of that one. He had a great costume.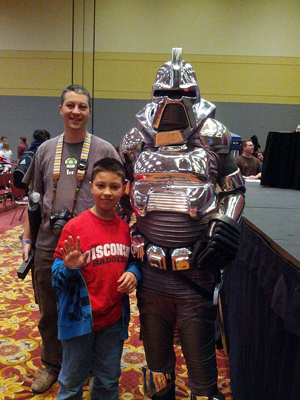 And here we are! Finally a photo of us together... me and the world's best Cylon handler!
Jared and Myself with his son, Kaden. Thank you once again to Jared for EVERYTHING! The con was so much fun with him and Kaden... Can't wait for next year!!!!!!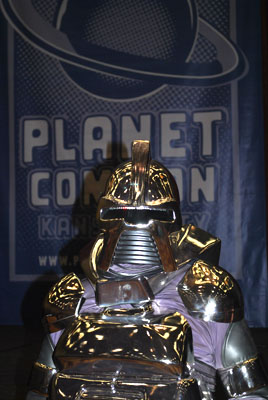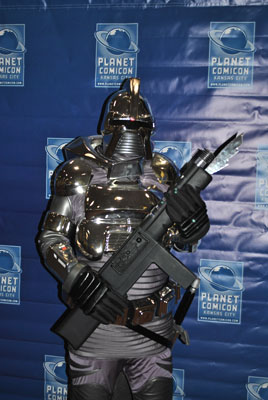 I CLAIM THIS CON FOR THE CYLON EMPIRE!!!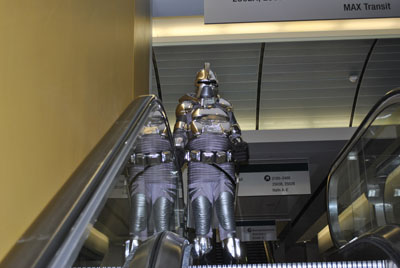 Escalators...
"It's a Cylon-Knight thang"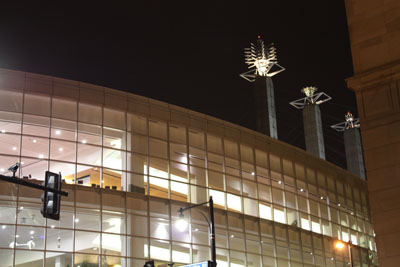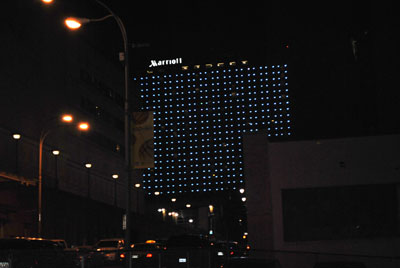 Left: At night Bartle Hall's pylons rock with their "Sky Stations." I took this from the car with the window down. WE GOT A KILLER PARKING SPOT!!! As close as you can get!
Right: The nearby Marriott has lighting effects all year long at night - all sorts of colors and animations. It will be where you all stay when you come to the con next year............ RIGHT???????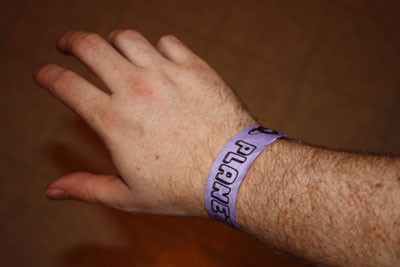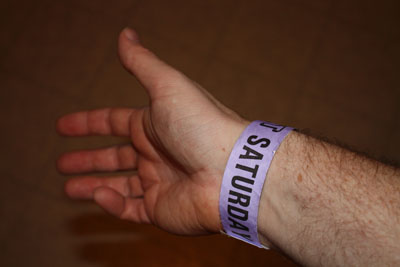 ... it really happend! It wasn't a dream!


SEE YOU NEXT YEAR!

......... well this is as long as a movie, and took me that long to write it too!
So here is the "after the credits extra"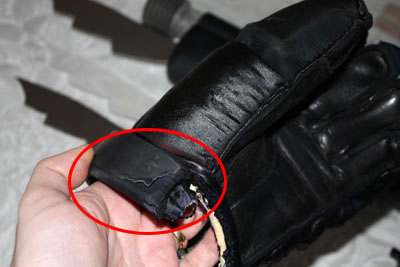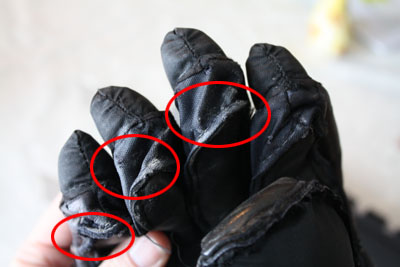 Left: My cuffs got goofy again... They'll need more work.
Right: I noticed my right glove had some black missing when taking the suit off... ahhhh... those evil Escalators!
Did anyone notice???????????????????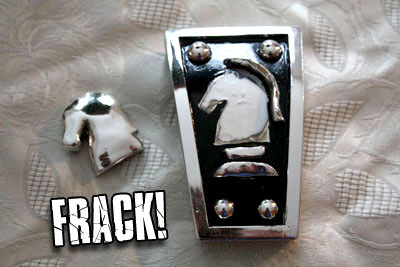 I was putting my helmet on after waiting hours, and hours to go on stage for the costume contest and in doing so my glove caught the Knight chest logo just enough to allow the magnets holding it on to "let go" and it fell to the cement floor (two more steps to the carpet!) and .... POW ... the horse head popped off. It will be a quick enough fix - but not right then - at stage time. FRACK ME! I had Jared take off the smaller gold one and I went on stage as a pure "standard Centurion" .... No one noticed - did they!?