My Latest Creation..............
CYLON MK.IXT ASSAULT RAIDER (TROOP LANDER VARIANT)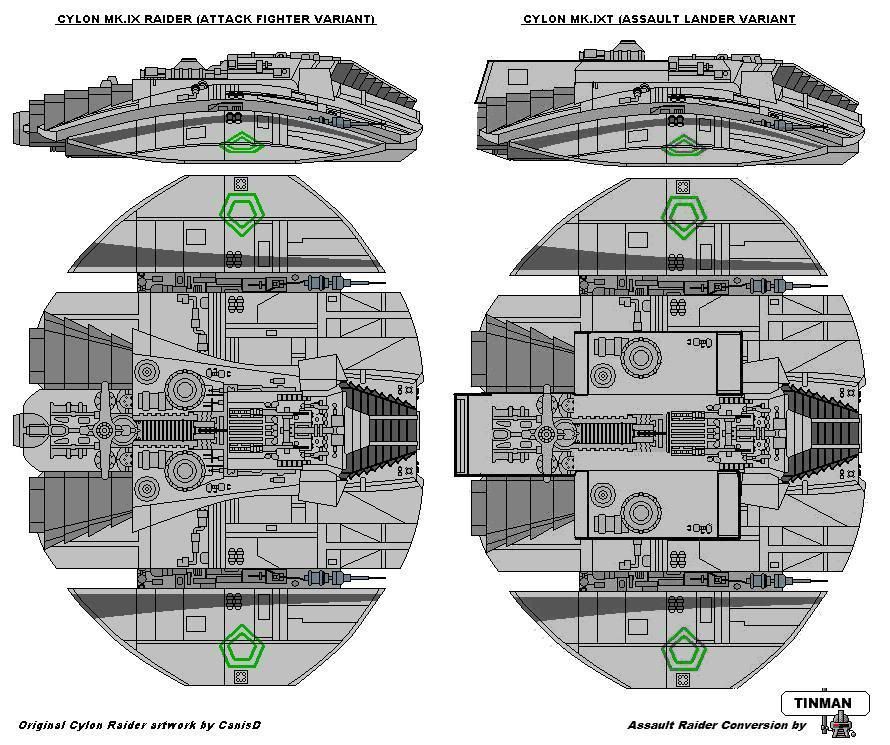 The Cylon Mk.IXT "ASSAULT RAIDER" is an Fast Assault Landing Craft version of the standard MK.IX RADIER Attack Fighter.
The design features a "Troop Compartment" that is incorporated down the centerline of the standard Raider hull by deleting some systems and moving others to the outside of the troop compartment and into the spaces formally taken up by the missile and weapons bays.
The Assault Raider features a capacity to carry 36x (3x Attack Squads of 12 Each) Model 0005 "Soldier" Centurions and their equipment in addition to the standard crew of 3x Centurions.
The troops are carried inside the compartment in a standing position on a special magnetic rotary rack and can be deployed out an armored roll-up door in the stern after the Raider has come to a landing or "Combat Deployed" by being dropped quickly out a door in the floor of the compartment while the Raider hovers just above the landing zone.
The Assault Raider keeps the two fixed forward fireing Turbo-Blasters for Attack and for support of the ground based troops but has all missle bays removed. For self-defense and enemy suppression on the landing zone it can also be fitted with a remote light twin blaster turret on the upper rear deck.
Due to the increased mass of the troop compartment, troops carried, deletion of some systems & reduction in fuel capacity - the Troop Raider's performance & range is reduced from that of the standard MK.IX Raider. Still the Troop Radier is fast enough to enable it to be survivable in the combat zone and to be very effective in it's mission to be able to land and deploy its forces in a heavily defended landing zone and then return for more.