His eminence, our Imperious Leader, has tasked his newly operational Centurion, Cylon-Knight, to once and for all end the human threat. As such, I am to reverse engineer a Battlestar.
Once we fully understand alien human technology, we will devastate the last Battlestar of Man, the Galactica, with a facsimile built in its own image!
Soon the Cylon Battlestar, Annihilation, will blow the Galactica out of the stars - once and for all!
By Your Command
And so here is my build concept:
Low/no budget build
Studio Scale to overall 1978 Galactica published sizes: 76" long, 30 3/4" wide, 11 1/2" tall
99% based on a WONDERFUL drawing done by Jim Stevenson - a.k.a. "137th Gebirg" (with his permission) that is perfectly to scale with the published sizes (SWEET!).
Advanced Cylon technology allows his low resolution image to be measured to studio scale. (I am using some other build photos on the web as reference also for parts that are obscured in Jim's drawing - but that's a secret we won't tell the Imperious Leader about, K? Super.)
NOT 1:1 accurate in surface details.
I will detail my ship the same as the guys at Apogee did! "Oh this looks cool here." No plan, just random found parts and bits. After spending *ahem* "this much" money on my Cylon Centurion costume build for the last 4 years! this Battlestar rule #1 is that I can not succumb to the 1:1 bug again. It's a fun fan project NOT intended to rival the super Battlestar builds of others with MUCH precision and perfection. (Remember - I'm just a clunky 1978 Cylon with big hockey glove hands!)
Phase 1: Typing Paper study. Cheap, no mess. Rough in the shapes and sizes of various parts. Get an idea of the SCALE of the ship.
Phase 2: Cardboard shakedown. Streamline paper parts to a sturdy prototype and finalize panel shapes and sizes.
Phase 3: Plastic. Cardboard shakedown translated to sheet plastic with a 2" PVC back bone (in place of a metal one). Details added, paint, name! Cylon Perfection.
Phase 4: The Annihilation annihilates the Galactica (of course)
So, Phase 1 is winding down... I have gotten to the engine section and found the LARGE parts are too weak. And the small parts are too hard to get to fit with all the flex going on. So I thought now would be a good time to share my build....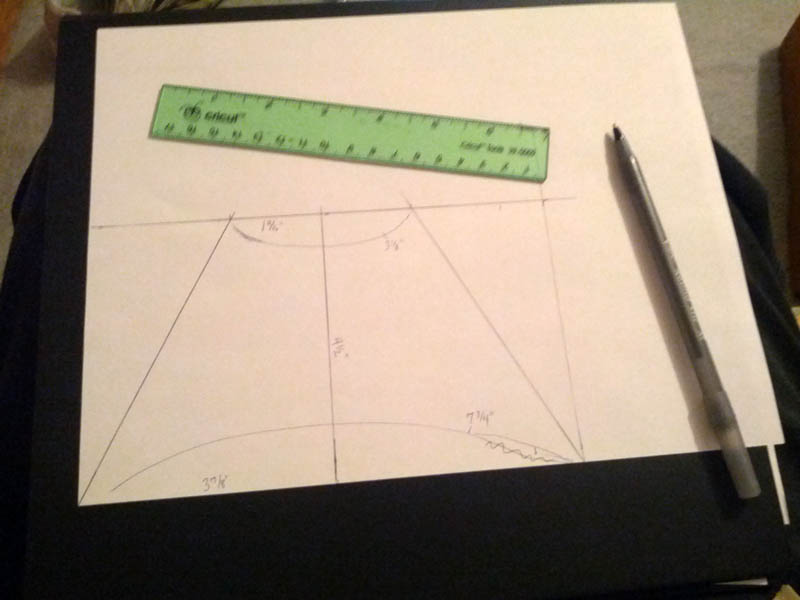 THE start.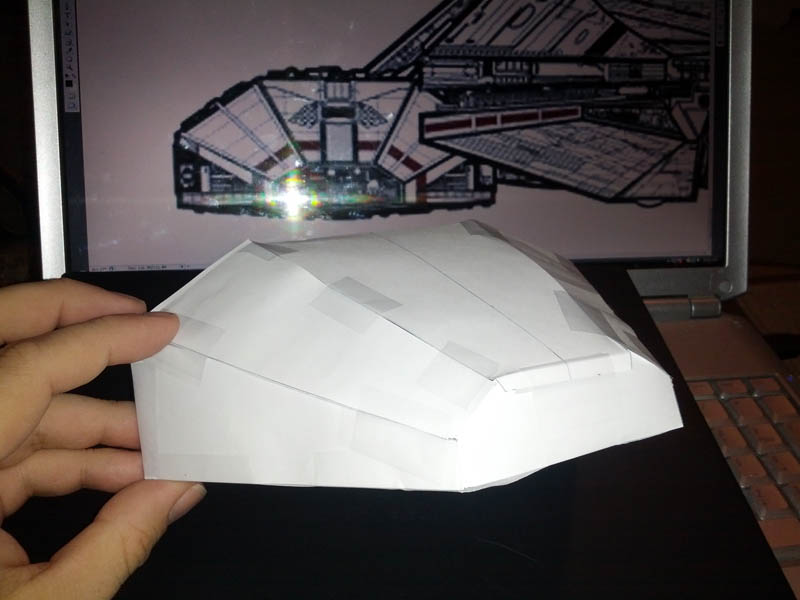 2 hours to build the front of the flight pod. I know the bottom should not be flat... but after a few 4 letter words, I picked FLAT.

I plan on adding the angle bits later.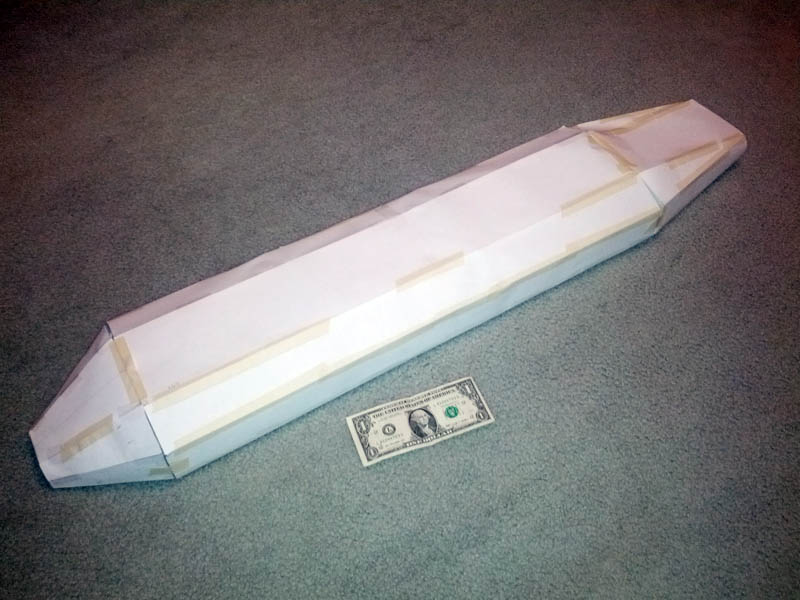 Rest of the pod. And I realized the back was totally dumb.
Measure twice, cut once - not the other way... oops.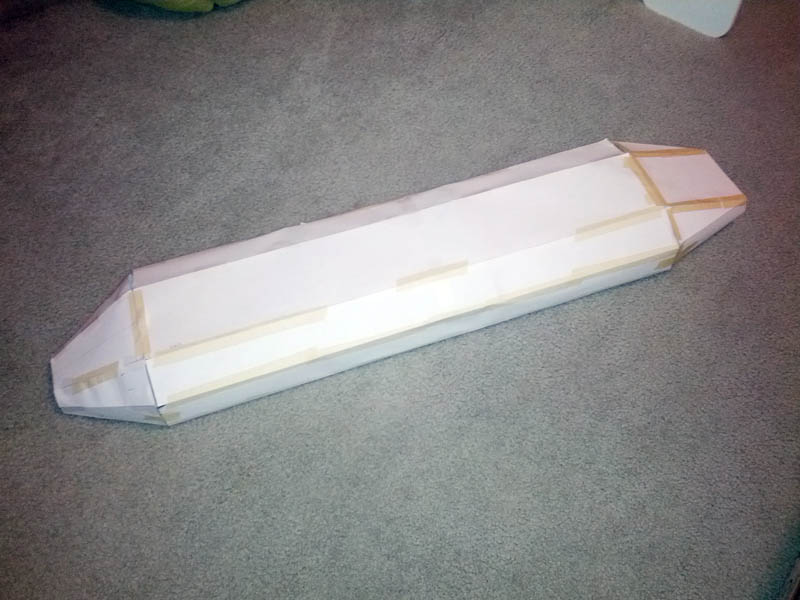 Fixed. (Trenches to be added later)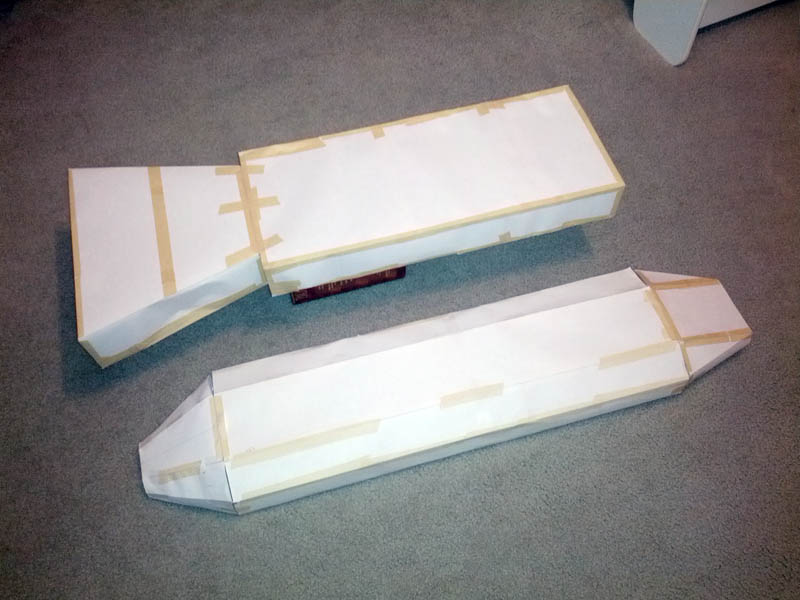 Progress. Cylons are gonna get you Galactica!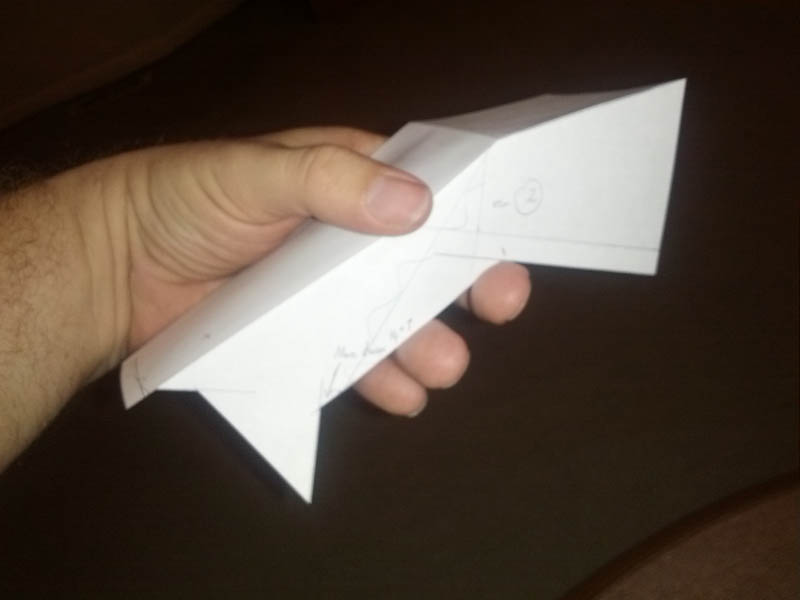 Dang. The arms. That was a mind trip to get them right.
(Or as close as I wanted to bother with.)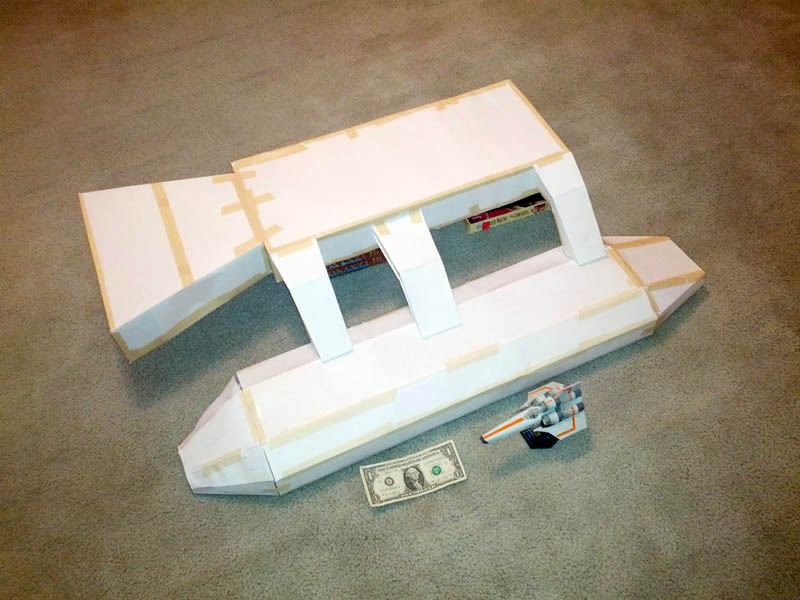 Hey! LEFTY!
My arms were altered to fit the angle of the top of the flight pod. A Cylon improvement over lowly Human design (that's my story).
Dramatic angle. *oooohhhh*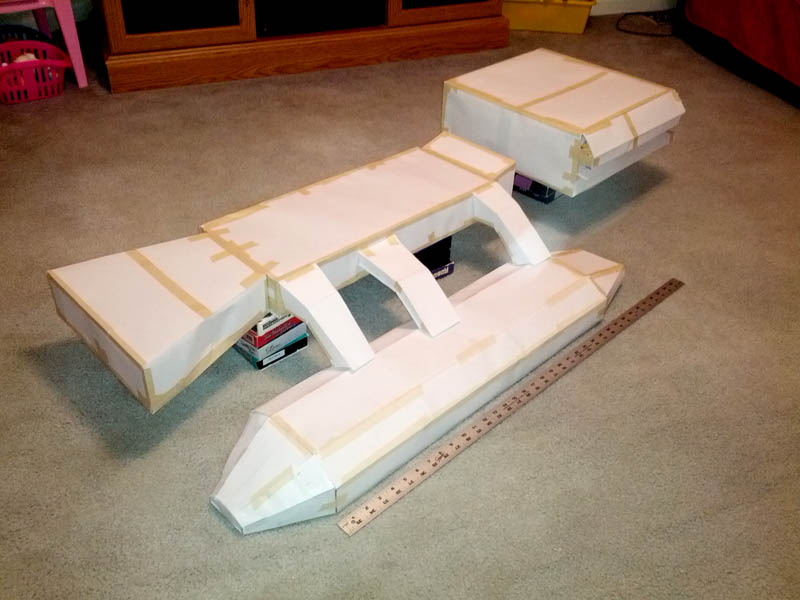 Paper phase winding down, having too many issues at this point working with just typing paper and masking tape (plus a few cardboard ribs inside the bigger boxes)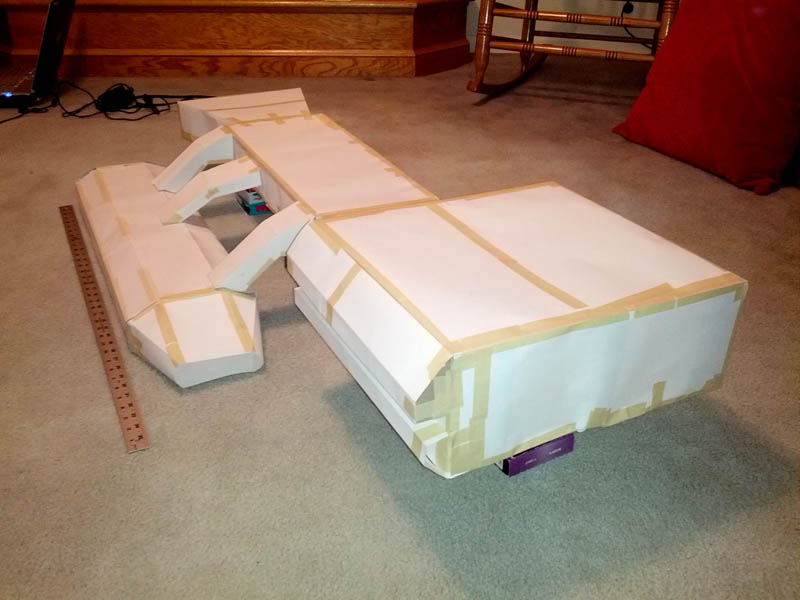 That's it for now... next update when I have enough to report.